Location & Contact
Welles-Turner
Memorial Library
2407 Main Street
Glastonbury, CT 06033

GET DIRECTIONS
Main
Lending
Reference
Children
860-652-7719
860-652-7719
860-652-7720
860-652-7718
---
Hours
Mon, Tue, Thu 9am-9pm
Wed 12pm-9pm
Fri 9am-6pm | Sat 9am-5pm
Sun 1pm-5pm
(Closed Sun, mid-May – Labor Day)

What's Happening
The Latest
Upcoming events at a glance ...
"Libraries Rock!" Summer Reading Program for Adults
As in previous years, summer reading for adults (ages 18 and up) is easy and rewarding. Just read and/or listen to four (4) books between June 25 and August 16. Beginning on June 25, register online, and record your titles along the way. Once you've completed the four books and recorded them online, you are eligible to receive your reward: a specially-designed, themed T-shirt. This year, anyone who reads at least four books will also be entered into an End-of-Summer Reading Raffle. But don't stop with four books ... keep reading and recording what you've read throughout the entire summer to prove that Glastonbury was "born to read!"
A big "thank you" to the Friends of the Welles-Turner Memorial Library for their generosity in helping us fund the programs and prizes this summer.
Automatic Sorter for Library Returns

Our new automatic sorter is ready to use. It is very easy:

View of new lending area from lobby

1

Press "Open Door" button (middle of touch screen).

2

Insert item. If you are returning more than one item, you will need to insert one at a time. Tip: When you see the green checkmark on the screen, insert your next item.

3

If you are returning media, please check to make sure that you have all of the components before inserting the item.

4

After returning all of your items, press "End Session" button on lower right side of screen. Currently, we are not offering receipts, so ignore that button.

View of automatic sorter from workroom

If you need further instruction, library staff will be glad to assist you.
A Word About Holds for Local Book Clubs
Due to Connecticut State Library delivery limitations, the library must suspend local book club support until further notice. In the meantime, the Reference Department is available to assist members of community book clubs in locating available copies of items to be picked up at the owning libraries. We regret this inconvenience and will let you know as soon as we have more information.
New Civics and Citizenship Resource
The library has recently received a collection of educational resources for immigrants and new citizens, "The Civics and Citizenship Toolkit." This toolkit is made possible by U.S. Citizenship and Immigration Services (USCIS) to help permanent residents learn more about the United States and prepare for the naturalization process.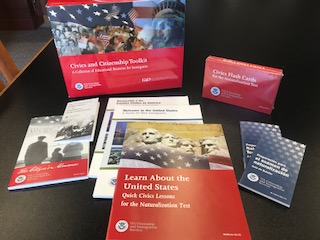 The kit is available at the reference desk for use in the library - perfect for a study session in one of our newly renovated Quiet Study Rooms. Resources include English and Spanish guides for new immigrants, preparation books for the naturalization test, civics lessons and flash cards, printed versions of the Declaration of Independence and Constitution, and more. For further information, please contact Reference at 860-652-7720.
Burbio
Burbio.com is a free community-building service that streams all library, school and non-profit events together in one place through a web site, iOS app and Amazon Alexa. Currently, the Welles-Turner Memorial Library calendar, as well as those from the local schools, are available. Expect other non-profits to be added in the school year.
| | |
| --- | --- |
| | If you are a member of a non-profit organization and would like your group's events added, please contact Library Director, Barbara Bailey at barbara.bailey@glastonbury-ct.gov. |
Upcoming Events

Kindness Rocks: Create, Hide, Find & Inspire


Who: Adults and Teens
When: Tuesday, July 17, 2018
Time: 6:30-8pm
Place: Library's Friends Room

| | |
| --- | --- |
| | This summer is all about how Libraries Rock, but we think Kindness Rocks even more! Take part in The Kindness Project, a trend where people paint rocks and hide them around town for others to find as an act of random kindness. Shirley Musumeci, Glastonbury Rocks, will lend her expertise for newcomers and experienced "rockers." Please bring a smooth, palm-sized rock to paint; all other supplies will be provided. We will have ideas for designs to create, but you're encouraged to bring your own design if you choose. Adults and teens age 12 and over are welcome. Seating is limited, so registration is requested online or at the Reference Desk at 860-652-7720. |

Friday Afternoon Films at the Library ~ Dirty Dancing


Who: Adults
When: Friday, August 3, 2018
Time: 2-3:45pm
Place: Library's Friends Room

| | |
| --- | --- |
| An innocent teen crushes on a slick, handsome dance instructor at a 1960s upscale Catskills resort in "Dirty Dancing." The soundtrack yielded the Oscar-winning Best Song "(I've Had the) Time of My Life." Starring Patrick Swayze and Jennifer Grey. PG-13; 1 hour 37 minutes. Refreshments will be provided. For more information, call Reference at 860-652-7720. | © Lions Gate Films, Inc. |

Entrepreneurship in 3 Easy Steps:

READY,

SET,

GO!




Who: Adults
When: Tuesdays, September 11, 18 and 25
Time: 10:30am-12noon
Place: Library's Friends Room

Starting Tuesday, September 11, the Welles-Turner Memorial Library hosts three 90-minute workshops in partnership with the U.S. Small Business Administration's CT District Office, which will offer guidance for small business owners and those thinking about entering the world of entrepreneurship. "Entrepreneurship in 3 Easy Steps" lays the groundwork for helping new and aspiring entrepreneurs launch a business idea and understand the steps to building a business that is credit ready. The information will be presented in three modules. All workshops start at 10:30am. Come to all three, or attend the one(s) that fits your needs!

READY, Tuesday, September 11 ~ SBA will present the basics of business startup, and go over what you need to consider and prepare for in the early stages of the process.

SET, Tuesday, September 18 ~ Learn the essentials of becoming credit ready, including: • where to get money • the 5 C's of credit • and how to prepare a business loan application.

GO!, Tuesday, September 25 ~ Learn how and where to where to find additional small business support and educational resources for continued help along the way.

Register for each workshop beginning August 14, online or at the Reference Desk at 860-652-7720.

Ella Waters Concert Series: The Esperanto Duo


Who: Adults
When: Sunday, September 23, 2018
Time: 2-4pm
Place: Library's Friends Room

The Esperanto Duo features guitarist Dave Giardina and violinist Chris Payne performing an exciting style of music known as "gypsy jazz." Their unique set is inspired by the music of 1920s artists Django Reinhardt and Stephan Grapplli with their famous group, "Le Quintette du Hot Club de France." The duo mixes Latin, Irish, Italian, Klezmer and other ethnic music into each lively performance. Feel free to tap your toes and sing along! Seating is limited, so registration is requested and begins August 27, online or at the Reference Desk at 860-652-7720.

The music series is presented by the Friends of Welles-Turner Memorial Library and Welles-Turner Memorial Library in memory of Isabella Waters, who was a generous library supporter.

"Build a Better ... You!" ~ The Art of Being Happy


Who: Adults
When: Wednesday, October 3, 2018
Time: 6:30-8pm
Place: Library's Friends Room

This lecture series focuses on health and lifestyle topics, followed by discussion.

Our "Build a Better … You" healthy lifestyle series returns to answer the question: Can you really choose to be happy? Believe it or not, you are the creator of your own happiness. Join Licensed Professional Counselor and Life Coach, Lucinda Testo, and learn research-proven strategies to bring more happiness into your life. Lucinda is the owner of Unlimited You, LLC located in Wethersfield CT. She is a positive psychology enthusiast who offers strengths-based counseling and coaching in addition to wellness-based workshops. Seating is limited, so registration is requested and begins September 5, online or at the Reference Desk at 860-652-7720.

First Ladies: An Adventure in Glamour, Guts and Gumption


Who: Adults
When: Monday, October 29, 2018
Time: 6:30-8pm
Place: Library's Friends Room

| | | |
| --- | --- | --- |
| | Come learn about the personalities and adventures of the women who became the First Ladies of the United States. Who were they really? What made them tick? Did they love or loathe their role? Did they sink or swim navigating the complexities of politics, protocol and publicity, whether they did so willingly or not? Mariann Millard, licensed Washington, DC guide, joins us for a lively, humorous and engaging presentation that weaves together historical and modern events with facts about first ladies to help us understand and appreciate the important role they play in our nation's history. Seating is limited, so registration is requested and begins October 1, online or at the Reference Desk at 860-652-7720. | |

Building Blocks to Successful

Estate & Gift Planning


Who: Adults
When: Tuesday, November 13, 2018
Time: 6:30-7:30pm
Place: Library's Friends Room

This information session will help you learn the basics of estate planning. We'll go over the necessary documents you will need to get started and common mistakes to avoid. We will teach you to understand the system and help you take six steps to build a successful plan. Presented by Rebecca Miller and the Financial Awareness Foundation, a non-profit dedicated to the advancement of financial literacy.* Seating is limited, so registration is requested and begins October 16, online or at the Reference Desk at 860-652-7720.

*Securities offered through USA Financial Securities, Member FINRA/SIPC. A Registered Investment Adviser.

For more events, see the CALENDAR.

Subscribe to our E-Newsletter

Images on this page subject to copyright; used with permission.