Location & Contact
Welles-Turner
Memorial Library
2407 Main Street
Glastonbury, CT 06033

GET DIRECTIONS
Main
Lending
Reference
Children
860-652-7719
860-652-7719
860-652-7720
860-652-7718
---
Hours
Mon, Tue, Thu 9am-9pm
Wed 12pm-9pm
Fri 9am-6pm | Sat 9am-5pm
Sun 1pm-5pm
(Closed Sun, mid-May – Labor Day)

What's Happening
The Latest
3D Printing at WTML
The library's new 3D printer, a MakerBot Replicator Fifth Generation, will soon become available for library patron use.
It can print items up to 10"x8"x6". It works similar to a hot glue gun - it is fed plastic filament that it melts at three times the heat of boiling water. The printer then places miniscule plastic drops where the design tells it to and then builds up the drops to create a 3D object. For further information, please contact Library Director Barbara Bailey by phone at 860-652-7717 or by email at barbara.bailey@glastonbury-ct.gov. Thank you to the Friends of Welles-Turner Memorial Library for purchasing this printer for public use.
Holiday Donations ~ Book Tree
Thank you to all who donated children's books for our Book Tree this year. We collected 50 books, which were delivered to Social Services December 12. Along with the books, we were able to add 52 pairs of socks, 4 hats, 2 pairs of mittens and 34 children's toiletry items. Your generous contributions will go a long way to ensuring a happy holiday for many of Glastonbury's children and their families.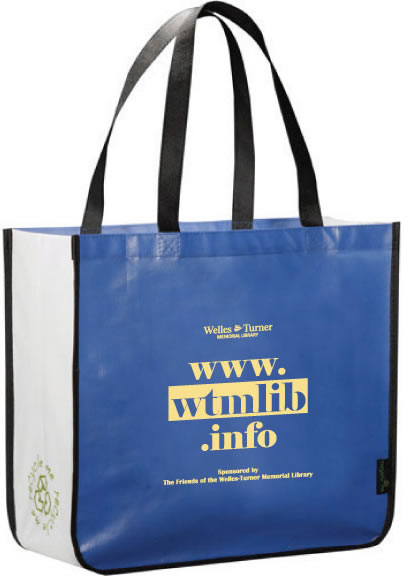 Library Book Bags
Want to tote around your library books in style? The Welles-Turner Library book bags are back! They're lightweight, colorful and large enough to hold a lot of books, DVDs, etc. The design is simple and serves as a reminder of how to access the library via the Internet. A bargain at only $1.00 each! Show your support for the library, and buy a book bag or two. Thank you to the Friends of the Library for subsidizing the cost of the bags.
Upcoming Events
Friday Afternoon Films at the Library

Who: Adults
When: January 2, 2015
Time: 2pm
Place: Friends Room
Three sailors – Gabey (Gene Kelly), Chip (Frank Sinatra) and Ozzie (Jules Munshin) – are set loose on a 24-hour leave in New York City. The Big Apple will never be the same as the three look for fun and romance. 98 minutes. Not Rated. Refreshments will be available. For movie title or more information, call Reference at 860-652-7720.
Learn How to Get Your eBooks for Free!

Who: Adults
When: Thursday, January 8, 2015
Time: 6:30pm
Place: Friends Room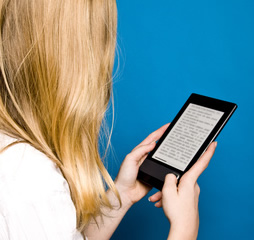 Did you receive an eReader or tablet as a holiday gift this year? Did you know that eBooks can be downloaded free of charge to those who hold a valid library card? In order to educate those who may not be familiar with downloading eBooks, Max Rowe, Library Connection Inc., will give a live demo on how to use the OverDrive app to borrow eBooks from the library. Bring along your own device, and get hands-on help. If you can't make this program, we will have a second workshop Tuesday, February 10, 10 am. To fully benefit from this workshop, participants are asked to:
bring your valid Welles-Turner library card in good standing;
fully charge your device;
know your user name and password to your device's app store; and
have a basic operational understanding of your device.
Register at Reference, 860-652-7720.

Meet the Author, Patricia Maloney, Dearest Ones at Home

Who: Adults
When: Sunday, January 11, 2015*
Time: 2pm
Place: Friends Room
Join us in welcoming Patricia Maloney, who will discuss and sign her book, Dearest Ones at Home: Clara Taylor's Letters from Russia, 1917-1919. Clara's letters, collected in this book, tell what an ordinary American woman in Russia experienced as she watched the 1917 Revolution from the streets. Recommended for people who read history and love true adventure. Patricia and her husband live in Glastonbury. Books will be available for purchase and signing. Russian teacakes and cider provided, courtesy of the author. Registration is required and begins December 14 at Reference, 860-652-7720.
*Snow date, January 18, 2015

Healthy Choices for the New Year!
Welles-Turner Memorial Library's Health Fair

Who: Adults
When: Saturday, January 24, 2015*
Time: 10am-2pm
Place: Friends Room
Need help with your New Year's resolutions? Drop in the Friends Room on Saturday, January 24, between 10am and 2pm. The fair brings together local businesses and municipal departments on a variety of topics to help you make healthy choices for 2015. The fair is free and open to the public.
Presenters are as follows:
Donna Gollenberg, Certified Health Coach, presents "Sugar Blues" – symptoms, health consequences caused by our demanding sweet tooth and top suggestions to break free!

Marc Edwards, MD, Ayurveda Consultations, presents an overview of Ayurveda, the Science of Life, and how it gives timeless and profound knowledge of how to optimize health and longevity. Visit his table to have your state of balance assessed by a pulse reading.

Brandie McKay Coburn, Holistic Health Coach, CT Health Counseling, presents proven botanicals for depression and anxiety.

The Town of Glastonbury Health Department will provide blood pressure checks, body fat analysis and Body Mass Index calculations.

The Town of Glastonbury Social Services Department will provide information on their food and nutrition programs.
*Snow date: January 31, 2015

For more events, see the CALENDAR.
Subscribe to our E-Newsletter

Images on this page subject to copyright; used with permission.