Location & Contact
Welles-Turner
Memorial Library
2407 Main Street
Glastonbury, CT 06033

GET DIRECTIONS
Main
Lending
Reference
Children
860-652-7719
860-652-7719
860-652-7720
860-652-7718
---
Temporary Hours
Mon, Fri 9am-5pm
Tue, Thu 9am-6pm
Wed 12pm-5pm
Sat 9am-12noon


Second Century Fund, Inc.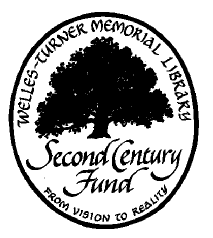 The Second Century Fund is a not-for-profit organization which provides permanent financial support for the library, as well as funding to help meet future large-scale needs.
Donations may be made to either the Endowment Fund, which provides a perpetual source of income for the library, or to the Unrestricted Fund, from which the principal may be used for large-scale needs, such as future renovations or additions to the library. Both funds are used to support this valuable institution, so you may decide to which fund your donation will be allocated.
The gifts come primarily from our annual appeal, memorial gifts, honorariums and fundraising events. Ways to contribute include:
Cash
Securities
Mutual funds
Matching gifts
Real estate or other personal property
Charitable remainder trusts
Gifts through wills
Bequests
If you have questions, please call Susan Peitrogallo, Treasurer, at 860-633-1546.
Background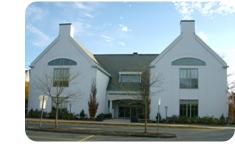 The Welles-Turner Memorial Library Second Century Fund, Inc. was established in 1993 by a small group of Glastonbury citizens. Its initial purpose was to raise private donations to help reduce the amount of town funding (i.e. taxpayer cost) for the expansion of the then overcrowded library. In the beginning, there were eight people and a dream. Within a year, they had the support of hundreds, then thousands of town citizens who gave of their time and money to make the library expansion a reality. On November 5, 1996, when Glastonbury voters passed a $5.7 million referendum to finance the project, the Fund was able to donate nearly $700,000 toward the library expansion. The Fund's cost to raise that sum was less than 4%, a remarkably low figure achieved by the all-volunteer group. The primary goal is to continue generating income forever for this valuable institution.
Activities Sponsored by Second Century Fund
Chris Lemmon in concert: "Twist: The Stage Experience," 2012
"Lincoln's 200th: A Birthday Symposium," 2009
"Gala Fundraisers," 2003, 2004, 2005, 2007
"Tink Henderson Recognition Day": October 6, 2002
"Celebrate! An Explosion of Ideas," a year-long program of lectures, concerts, poetry and play readings, panels and discussion groups, and art exhibits to celebrate the completion of the expansion and renovation
Author Talks and Book Signings
Amy Bloom, Away, Where the God of Love Hangs Out, 2012
Jane Haddam, Living Witness, Glass Houses, 2010
Candace Bushnell, "A Stylish Sunday," Sex and the City, 2009
Wally Lamb, The Hour I First Believed, 2009
Nancy Verde Barr, Backstage with Julia: My Years with Julia Child, 2008
Stewart O'Nan, Last Night at the Lobster, Snow Angels, Circus Fire, Faithful, 2008
Patricia Klindienst, The Earth Knows My Name, 2007
Mary-Ann Tirone Smith, Girls of Tender Age, 2007
Chris Lemmon, A Twist of Lemmon, 2006
Thomas Cahill, Sailing the Wine Dark Sea, 2004
Awards
"Tink Henderson Award" presented annually to a Glastonbury High School Junior who has shown an interest and talent in writing
"Peg Stone Award" presented annually to a Glastonbury High School musician
Annual grants of $250-$1,000 providing educational and outreach programs
Administration
Officers are elected at the Annual Meeting of the Fund, held in the spring, and serve a one-year term:
Ginny Roscoe, President
Diane Lucas, Vice President
Pamela Gambarotta, Secretary
Susan Pietrogallo, Treasurer
Richard Marcks, Assistant Treasurer
Trustees, totaling not less than ten nor more than 18, serve staggered three-year terms and are elected at the Annual Meeting of the Fund.
Board members are:
Kate Cryan
Nicole McDaniel
Matt Maclean
Joyce Miglietta
Asker Saeed
Andrew Sullivan
Rebekah Wright