Location & Contact
Welles-Turner
Memorial Library
2407 Main Street
Glastonbury, CT 06033

GET DIRECTIONS
Main
Lending
Reference
Children
860-652-7719
860-652-7719
860-652-7720
860-652-7718
---
Temporary Hours
Mon, Fri 9am-5pm
Tue, Thu 9am-6pm
Wed 12pm-5pm
Sat 9am-12noon


Reserving Rooms
Meeting and Study Rooms ~ Currently Unavailable
Due to the current pandemic, meeting and study rooms are currently unavailable. For future reference, following are the library's Meeting Room Policy and Study Room Guidelines: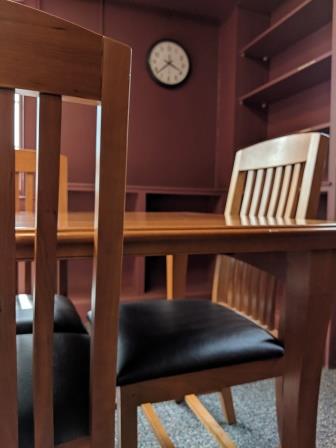 Meeting rooms (e.g., Friends Room, Glastonbury Room) are available on a first-come, first-served basis. Library programs and activities have priority. Before requesting a room, please read the library's Meeting Room Policy. Once they are opened again, you will be able to check a meeting room's availability and request a room online. The Adult Services Librarian will review your request, and you will receive an email confirmation from EventKeeper's Room Request service.
The library has five study rooms. Four of the study rooms accommodate up to 4 people each; one of the rooms is large enough to accommodate six people comfortably. When study rooms are reopened, you can contact Reference at 860-652-7720 to make a reservation. For more information, please read the library's Study Room Guidelines.
Images on this page (including attachments) subject to copyright; used with permission.